Mission & Vision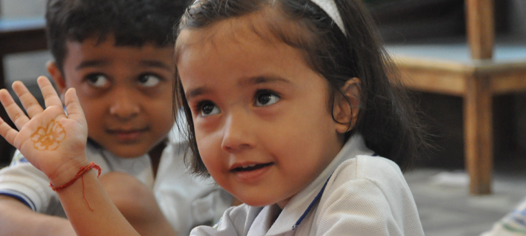 VISION
To inspire every child for life through a rounded education of a child's body, mind, heart and spirit, to help them grow into complete and balanced human beings, able to recognize their potential as contributing and successful members of their family, society, country and the world.
MISSION
To create an environment in which every child feels nourished, nurtured and supported to become the best s/he can be. To provide learning opportunities in a non-competitive, loving, respectful and caring environment that nurtures a positive self-image of every child and creates in them an intrinsic love of learning.
Just like a little sapling is supported by a gardener to become the best tree of its kind, Nurture Mini Planet provides individual support for every child's best academic, social, physical and emotional well-being.
Nurture Mini Planet is a school founded upon four building blocks of education and the principle of 'Compete with Yourself'. The role of Education is to bring out the nobility and maximise the potential of every child through a carefully planned environment that addresses all aspects of a child's development: body, mind, heart and spirit.
The Four Building Blocks of Education in the 21st Century are:

Universal Values
Spirit 'to be'
Global Understanding
Heart 'to love'
Excellence in All Things
Mind 'to discover'
Service to Humanity
Body and Skills 'to do and to serve'
A balanced and rounded education means the development of both inner and outer powers in a carefully designed environment.